Exciting times at Middleborough Dental Care
The team at Middleborough Dental Care has always been proud of being the leading family-oriented dental practice in Box Hill.
Not only do we focus on making a visit to our clinic as simple and comfortable for every member of your family, but we all truly enjoy looking after patients of all ages.
Now, we're excited to say that our own family is expanding.
Our 'family' of dental practitioners is growing through the addition of Dr Ling Tung while our extended family is also about to increase with Dr Alice Yang expecting her second child!
Introducing Dr Ling Tung
We know that our patients will welcome Dr Ling, who is a highly experienced all-round dentist.
She started her career in Scotland, before moving to Australia 11 years ago, where she practised in Sydney before relocating to Melbourne.
"I've worked in community dental and private practice in different cities, so I've seen patients from all walks of life," Dr Ling explains.
As a mother to three young children, Dr Ling has a special interest in children's dentistry. You can be sure she knows all the tricks for making our younger patients feel comfortable in the chair.
"It has been great working at Middleborough Dental Care so far because Dr Alice has invested in a lot of gadgets, and it's a great team and I enjoy meeting all the new patients too."
We couldn't be happier to have Dr Ling join us.
Dr Samantha has 'upskilled'
The Middleborough Dental team is always improving our capacity to offer you, our patients, the best possible treatment and care.
Sometimes that's by adding new equipment, like our intraoral scanner or the Gemini Soft Tissue Diode Laser machine introduced last month, and other times by learning new skills or getting more training in things we've been doing for a while.
Recently, Dr Samantha Tan attended a Mastering Aligning course to get a more comprehensive understanding of the best practice around the use of clear aligners.
Of course, she was a star student! Well done, Dr Samantha.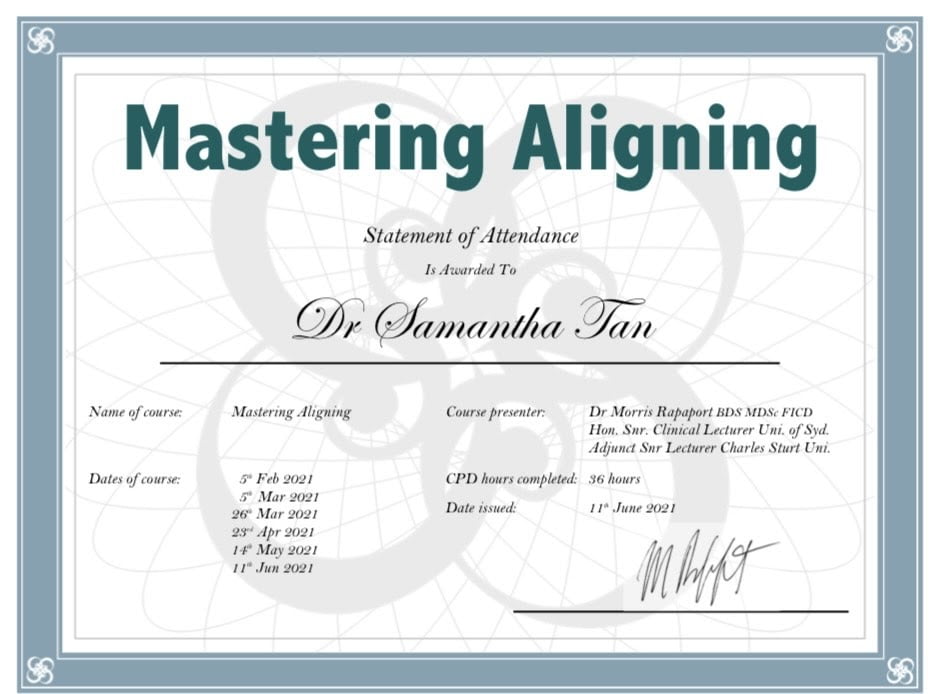 Dr Alice is expanding her own family
Congratulations to Dr Alice Yang and her husband, who are happily anticipating the arrival of a baby sister for Blake (who, believe it or not, is nearly three)!
Dr Alice will be on two month's maternity leave from mid-September… so you've still got a couple of months to wish her well.
Dr Melody Kuo will be looking after Dr Alice's braces patients during those two months.
How's your family?
While we have some news of our own, we're always focused on servicing our patients. After all, you're all part of our extended family, too.
As always, we encourage you to have each member of your family come in for regular check-ups and cleaning, and if you have any issues at all, make an appointment as soon as possible.
Prevention is always better than cure, so we'll do whatever we can to help you look after your family's teeth from childhood for as long as they last (which, if we do our job well, will be a long, happy lifetime).
We look forward to seeing you soon.