Have you reached the 'dental' cap on your health insurance?
Most private health insurance plans don't allow you to claim an unlimited amount back on the cost of your visits to the dentist.
Insurers set an annual limit for claims in several categories, one of which is usually dental.
Depending on your level of cover, it's possible that your policy has two separate caps: one for general dental procedures and another for more complex and less common procedures. 
Annual limits vary
 An annual limit is the maximum amount of money you can claim for a particular service within a year. It is 'capped' at that amount, for example $1000 a year. Your insurer will pay its portion of your bill up to that amount for any covered dental services received in that year. 
Once you have claimed the capped amount, you won't receive any further rebates on subsequent costs.
Depending on your health fund, an annual limit could be calculated based on the calendar year (January 1 through December 31), financial year (July 1 through June 30 the following year), or from the date of taking out (or changing) your health insurance policy. The calendar year is most common.
Because of these caps, you should be encouraged to have regular check-ups so that you spread out your costs and claims at regular intervals.
If you do have coverage for both general and major dental, this is how common treatments and procedures are categorised: 
General dental – preventative treatment services (oral exams, scale and cleans, and simple fillings).
Major dental – surgery (complex fillings, extractions, root canals, etc) and emergency treatment. 
Making the most of your cover
Of course, we recommend six-monthly visits, because we're more likely to keep your teeth and gums healthy and pick up any issue when it has just started to appear, rather than after it's had a chance to become a bigger problem. 
If you are due for a visit, it might be a good idea to come in before the end of the year so that your claim falls under this year's annual cap. That way, when the annual limit resets on January 1st, if you do need to make more claims than expected next year, you've started back at zero. 
Make your appointment to come in before we close for the year on December 24th to not only take full advantage of the health insurance cover you have paid for this year, but so that you don't 'eat into' your 2022 allocation.
By the way, we're open all the way to Christmas Eve this year before the MDC team takes a two-week break, and we'll be back for the new year on Monday January 10th.
Are you a HCF member?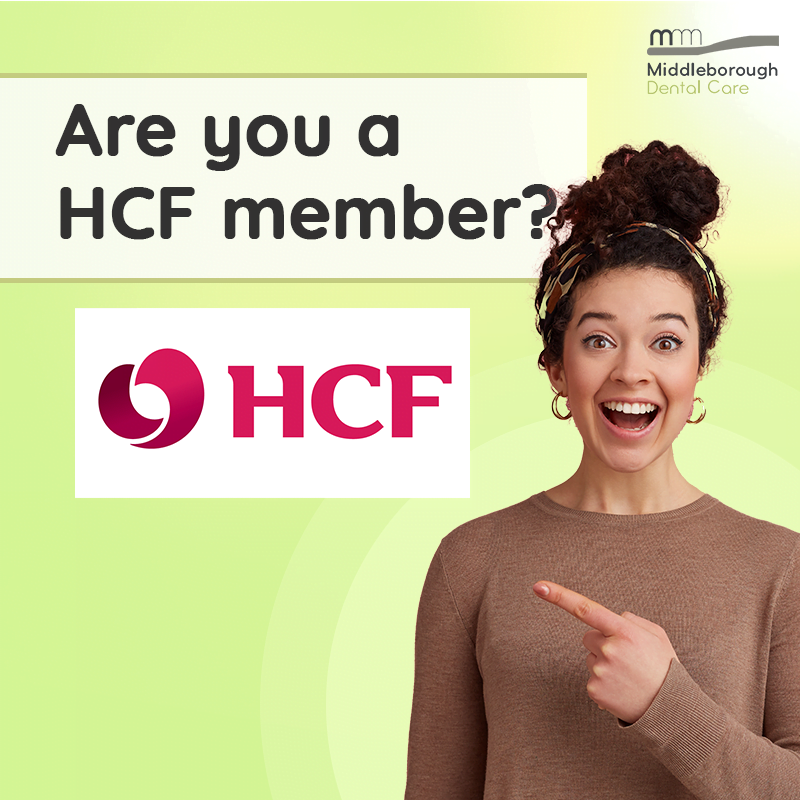 While Middleborough Dental Care accepts all health funds and processes your rebate on the spot, via the HICAPS rebate services, we are a part of Australia's largest not-for-profit health fund, HCF.
Their 'More for teeth' program, which is available to HCF members with selected extras cover, offers 100% back on a range of diagnostic and preventative services, as well as x-rays and mouthguards. Of course, the sort of annual limits we've outlined above apply. 
If you haven't used your annual allowance of one or two check-ups, a scale and clean, or a fluoride treatment, give us a call now and make an appointment.
Is it time to review your cover?
The start of a new year might also be a good time to review your private health insurance plan to ensure it's still the best level of cover for you.
Consider that you're likely to need more cover as you get older, but also you might have found out more about the state of your dental health – for better or worse – over the past year or two. 
Don't neglect the dental cover portion of your health insurance, because dental is far and away the main service claimed on private health insurance, with more than half of all payments being for dental services.
At MDC, we believe you have the right to choose health providers who you are most comfortable with and who can provide you with the most suitable treatment. Your choices shouldn't be influenced by private health funds.
Preferred providers designated by major private health funds are actually contracted dentists who meet the fee criteria of the health funds. Because they aren't chosen based on their standard of practice, this system can potentially put profits ahead of patients through over-servicing. 
We look forward to seeing you soon
Whether you're making the most of your health insurance cover or not, we want to see you regularly to ensure we're looking after your oral health as well as possible.
If you're not coming to see us in the next couple of weeks, think about coming in early in the new year – after we reopen on January 10th – so that you can confidently start 2022 with no dental issues and a winning smile. Just click here to book an appointment quickly and easily.
See you soon.