Even celebrities go to the dentist
Most of us think that appearances matter. We like to look our best, particularly when going out and meeting people, applying for a job or having our photo taken.
Now imagine if your entire career hinged on your appearance. You'd probably take how you look a lot more seriously. That's the reality for models, actors, singers, television personalities and others in the public eye.
If you look closely at Swedish singer-songwriter Zara Larsson in the video for her breakthrough hit Never Forget You, you might see that she's wearing braces. One of the world's biggest music stars, Beyonce. also wore braces, while Khloe Kardashian opted for Invisalign braces.
Tom Cruise always looked good, but before he made a career as a leading man in Hollywood he had a bit of work done. Dental work, that is.
Then at age 39, well after he had become one of the biggest stars in the world, he decided to undertake adult orthodontic treatment to straighten his teeth even more.
Cruise has made many millions of dollars with the help of his stunning smile, so whatever he has spent on cosmetic and corrective dentistry has certainly been worth it.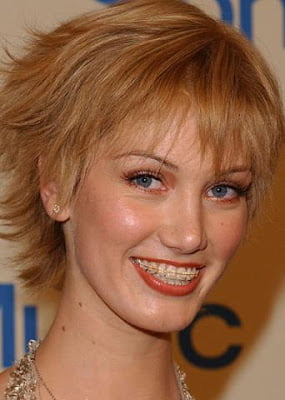 The Mission: Impossible star isn't the only high-profile celebrity to opt for adult orthodontic treatment.
Nicolas Cage also decided to straighten his teeth at 39 years of age, singer Gwen Stefani did it at 30 – famously appearing at the Vogue Fashion Awards in 1999 wearing her stainless-steel braces – while Lethal Weapon actor Danny Glover was just a couple of months shy of his 60th birthday when he treated himself to braces!
Kathy Bates, who won the Best Actress Oscar for her role in Misery at the age of 42, had orthodontic treatment to straighten her teeth in her 50s.
"I wear a retainer every night," the star of hit TV series American Horror Story told Dear Doctor magazine. "I got lazy about it once, and then it was very difficult to put the retainer back in. So I was aware that the teeth really do move."
Apart from braces and retainers there are quite a number of options for people who want to improve the appearance of their teeth, including whitening, porcelain veneers, crowns, dental implants and fixed bridges.
Actor Jamie Foxx had no problem getting a dentist to deliberately chip one of his teeth so he could portray a homeless man more realistically … because his teeth are "cosmetically enhanced" anyway.
Another actor, considered to be one of the most handsome men in movies, George Clooney, has a mouthful of veneers, although his need wasn't purely cosmetic. Clooney is one of the many who grind their teeth when they're stressed.
Ben Affleck wasn't quite leading-man material when he was younger. He had buck teeth and, after having that issue corrected, he has subsequently had several cosmetic dentistry procedures.
When Miley Cyrus was younger, during her Hannah Montana days, her slightly crooked teeth were part of her charm. But now she's all grown up, she's had her teeth whitened and straightened (and, let's face it, she does draw a lot of attention to her mouth).
The list of celebrities who have improved their smile through dentistry is quite long, and includes the likes of Emma Watson, Selena Gomez, Keith Urban, Celine Dion, Jim Carrey, Catherine Zeta Jones, Morgan Freeman, Demi Moore, Victoria Beckham, Hillary Duff and Zac Efron.
But, of course, you don't have to be a celebrity to want a dazzling smile, which is why we offer several cosmetic dentistry procedures at Middleborough Dental Care.
Orthodontics – specifically ceramic braces and Invisalign – to correct alignment, improve symmetry and provide satisfactory occlusion, which are the foundations of a perfect smile.
To enhance the colour of your teeth, we recommend whitening. One-hour in-chair bleaching can have an instant result, making your teeth up to six shades whiter. We also have stock take-home trays and custom take-home trays available.
For severely discoloured teeth that don't respond well to bleaching we can go with either direct composite veneers or indirect porcelain veneers. We'll help you decide which option suits you best.
If there's anything we can do to make your teeth look, feel, and work better, we'd like to help.
At Middleborough Dental Care we promise to treat you like a celebrity!
celebrities, cosmetic dentistry, orthodontics, veneers, whitening