Clear aligners come with clear pricing
You probably won't be surprised to know that a lot of research is constantly going on to improve dental treatments, and the equipment and materials we have available.
At Middleborough Dental Care, we always do our best to stay at the forefront of innovation, upgrading our training and equipment as often as we can.
In case you missed it, a few months ago we posted a video of Dr Alice explaining some recent improvements to the clinic, including the Airflow unit, Laser machine and Intraoral scanner.
Spark Aligners are now the industry standard
While we still need to assess the specific needs of each patient to determine the most suitable treatment, this year we have started using Spark Aligners, which are used by most orthodontists.
The clinicians and engineers who worked with Invisalign have spent some time developing a better material for clear aligners and Spark Aligners have raised the bar.
The patented material not only makes these clear aligners more comfortable for our patients, but they are also clearer and less likely to stain.
As if that's not enough to make us choose them, because of their targeted design Spark Clear Aligners may result in more efficient and effective tooth movement (when compared to other clear aligners).
Dr Alice has been through the training
The innovative Spark Aligner system can only be used by dentists who have experience with clear aligners and who have completed extensive training.
Dr Alice attended training sessions in Sydney earlier this year, led by globally renowned orthodontists Dr Diego Peydro and Dr Iván Malagón.
More force for faster treatment
Depending on each patient's particular realignment needs, Spark clear aligners can offer more advanced and sustained force retention and better contact with the surface area of the teeth.
That's largely due to the breakthrough material they're made from, which is BPA-free and can contribute to overall oral health by preserving gum health.
Better contact with your teeth may result in more efficient and effective treatment.
The cost is very reasonable
Given everything that's gone into the development of clear aligners, along with our investment in equipment and training, we're very pleased to be able to offer the treatment at a very reasonable price.
For only $250, we complete an orthodontic assessment which includes digital models, X-rays, photos, and a comprehensive report with before-and-after simulation.
The fee for the comprehensive clear aligner treatment varies based on how complex each case might be.
The range starts at $1500 for treatment that requires the least customisation, and the maximum is $7000 for the most complex cases.
We can give you a more accurate cost once we have completed the orthodontic assessment.
Invisalign remains an option
While using Spark aligners will now start to become a more common teeth-straightening treatment, Middleborough Dental Care will continue to offer Invisalign, as that might be more suitable in some cases (or simply a patient's preference).
The material Invisalign uses is also comfortable and discreet and this well-known product has a 20-year track record of straightening teeth effectively and predictably.
Their scanning software and treatment plan help us give you treatment that is not only consistent and comprehensive but also tailored. The cost is usually slightly more than for Spark clear aligners, ranging from $4,500 to $7,500.
Here are some before and after images of patients who have had Invisalign treatment: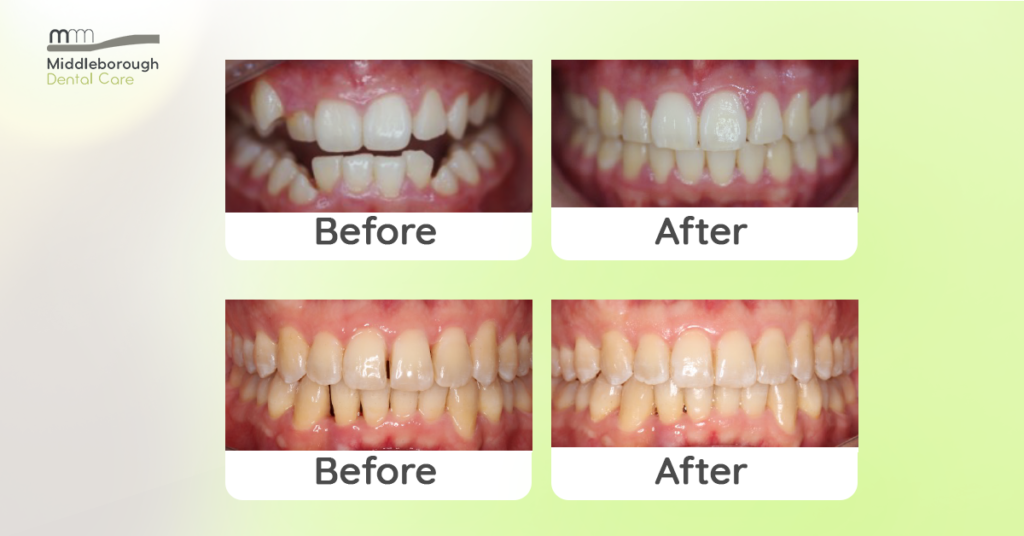 There's never been a better time to get clear aligners
With Spark Clear Aligners on our side, there's never been a better time to get orthodontic treatment.
That's because it's never been as effective, as invisible, or as comfortable.
Who would have thought that we could achieve the same results as we used to with braces and wires with aligners that are so unobtrusive?
If you have any questions, please ask away using our Contact form or via email or phone (03) 9808 0207.