Case study: How orthodontic treatment can put a new smile on your face
Do you know what to expect from orthodontic treatment?
We tend to see two types of patients considering the potential benefits of orthodontic treatment: those who know someone who has had treatment and those who don't. 
Seeing is believing, so when a patient knows someone who has had effective orthodontic treatment, it's highly likely that they will come to us with some level of confidence and surety about what they want (and expect).
On the other hand, those who haven't had any first-hand experience of seeing a friend or family member have their teeth straightened, either with metal braces or clear aligners, are more likely to have some uncertainty and be looking for more assurance from us.
Before and after photos offer a clear example of what's possible
While every patient who comes to Middleborough Dental Clinic for orthodontic treatment wants a straighter smile, each has slightly different expectations.
By looking at pictures of other people who have had treatment, you can often get a better idea of what's possible and even what your own teeth might look like after treatment.
So, with that in mind, here are three examples of patients (who have kindly consented to let us show their before and after photos) who have had orthodontic work done.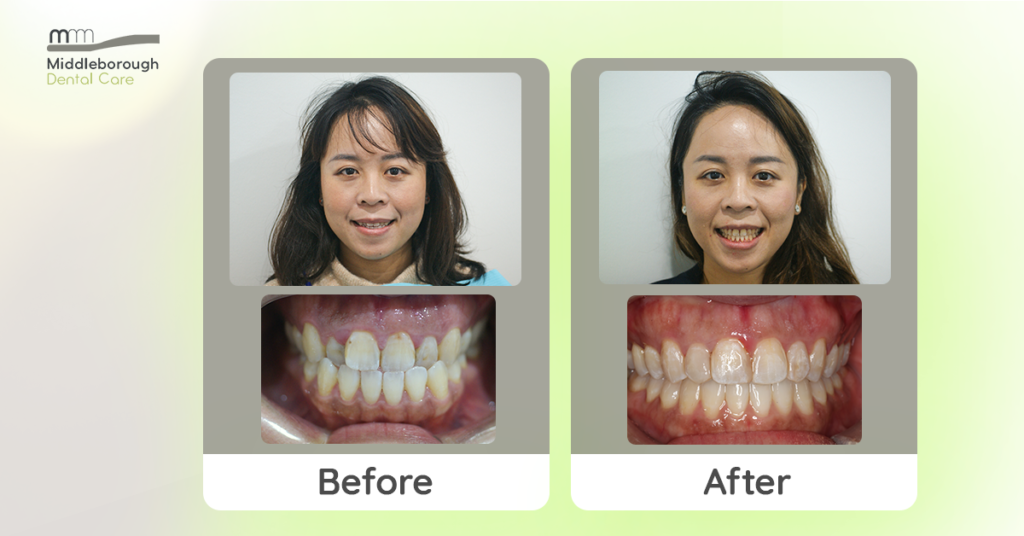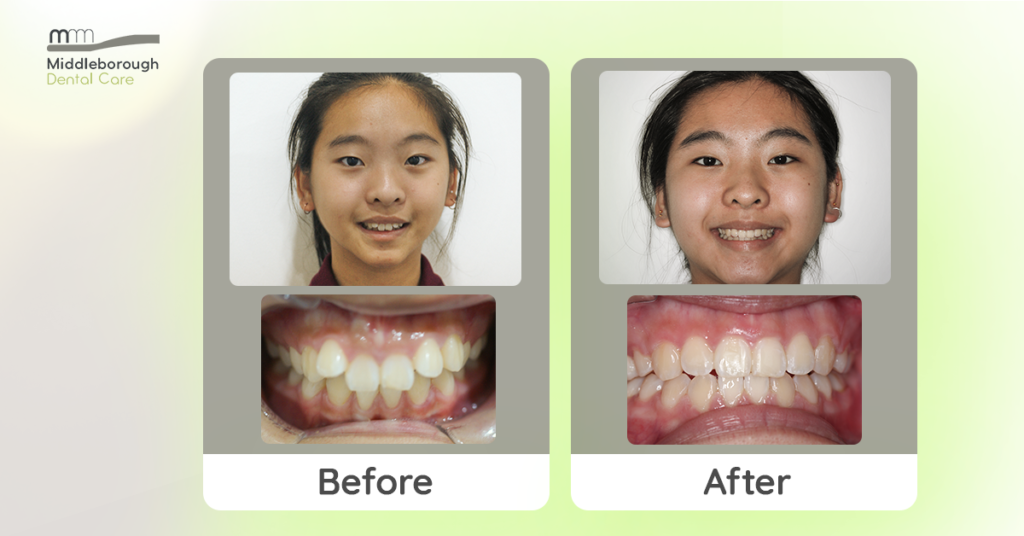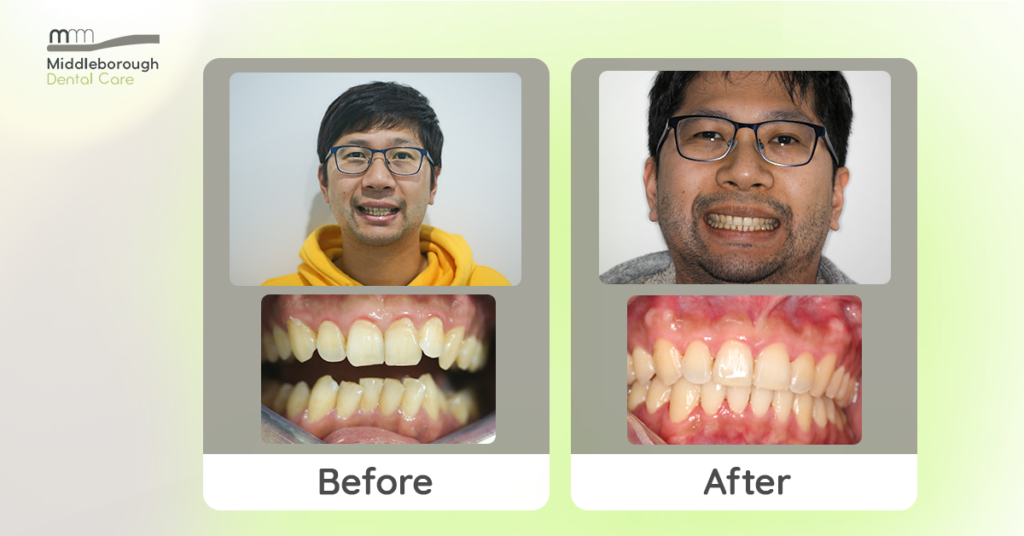 It's worth noting that it's possible to have some other treatment in conjunction with realigning your teeth, for example, Miss J had some additional whitening and fillings.
Why we do orthodontic work
Most patients who ask for orthodontic treatment are primarily concerned with their appearance.
This is perfectly understandable. Most of us want straight, even teeth so that we can spread our joy when we smile at each other.
We know that feeling good about showing your teeth tends to result in greater self-esteem and confidence so, if that was all you were getting from orthodontic treatment, that would already be a very positive result.
However, there are also a number of health outcomes to having straighter teeth and smaller gaps between them.
Malaligned teeth can result in difficulty or discomfort when chewing or biting, speech impediments, overbites and underbites, and putting undue and uneven pressure on teeth, jaws, and muscles, increasing the risk of breaking a tooth.
Then there's the most basic, most common adverse effect of prolonged malaligned teeth: the difficulty in keeping teeth consistently clean, which leads directly to a greater risk of decay, cavities, and gingivitis.
What does orthodontic treatment involve?
Orthodontic treatment is a very reliable, safe, and stable way to straighten teeth with minimal discomfort, risk, or ongoing maintenance.
At Middleborough Dental Care we offer both clear aligners and fixed braces:
These need to be fitted specifically for your teeth and the realignment required. Our scanning software and treatment plan help us give you treatment that is not only consistent and comprehensive but also tailored to your specific needs.
Clear aligners, which has been around for more than 20 years, are more comfortable and discreet and can straighten teeth predictably.
Fixed braces, which are recommended for teenagers, don't need any action from the patient for the duration of their treatment, as they stay in place all day, even while eating.
Selecting the right treatment
Dr Alice and Dr Ling have done extensive training on different aspects of orthodontics and can assess your needs and explain your options.
Our priorities are making sure you understand what we think and why, as well as giving you as much information as possible before you decide to go ahead with treatment.
We will be able to tell you the overall cost of your treatment after assessing how complex your case is and how long the treatment is likely to take.
In some cases, you can start to see results within a matter of weeks and the full treatment is finished in around six months, however, sometimes it will take a bit longer.
All your friendly dentists at Middleborough Dental Care are highly trained and very experienced helping patients of all ages work through their oral care and dental treatment needs.
We really enjoy taking care of you and knowing that your beautiful smile will be even happier and healthier after treatment!